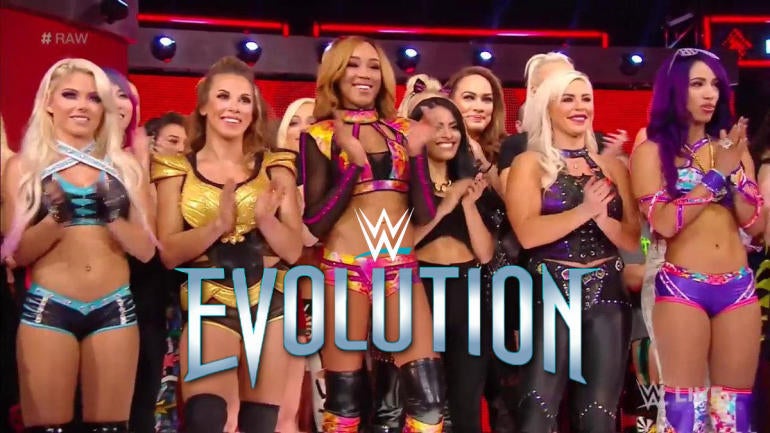 Yesterday on Raw, the show opened with Vince, Stephanie, & Triple H in ring while the entire roster was out on the stage. Triple H had the women come forward and praised them, a bit over the top with the praise but then again we are talking sports entertainment here so everything is a bit over the top, and then Stephanie proceeded to announce that on October 28th, live from NYCB Live (what replaced the nassau coliseum) in Long Island, will be the first ever WWE all womens ppv, Evolution. This is obviously a pretty decent sized deal, and is continuing with the underlying "firsts for the women" theme that's been going on all year. Personally, I have enjoyed most of this new women's roster push & direction it has taken. Sure, just like with the men, the writing lately has been fucking it up, but the overall premise has been good for the business as a whole. don't think for one second that this new approach wasn't helpful in securing those two new big TV deals. So I'm definitely down to check out this Evolution show and expect it to be pretty good. That being said, this was announced way too early.
Announcing this show in July, a month before Summerslam, which is one of the biggest WWE events of the year, was a bad move. Now this event hangs over the build up to Brooklyn. It even showed a bit last night with the weird and terribly reconciled Bayley & Sasha. Its making it look more and more like we aren't getting the payoff until October at Evolution, instead of in Brooklyn where they made history. As the weeks go on, I think we will see more instances of storylines being strung out just to fill this show, when it's only going to hurt the women's division overall. This will kill a lot of the hype around this event.
To wrap this up, I'm very much for this type of event, especially since the men are going to be doing the Saudi shows for the next few years on their own for awhile, but i'm not a fan of how they approached the reveal. This should have happened after Summerslam. They should have made the women involved in the bigger storylines blow the roof off the Barclays (because Ronda & Alexa will, and if they let Bayley & Sasha happen there they would too, as well as the NXT women who usually crush it), then announced it on the Raw right after, when the division is ready to start new feuds and just came off a big showing. THATS what Vince in his prime would have done. Instead they took the overly safe route and announced it early on its own.