He did it again! The Alpha of all Alphas.  My absolute idol.  Vinny Fuckin' Mac.  The ol' man still has his fastball and then some.  You simply do not fuck with Vincent Kennedy McMahon, especially when it comes to his baby, Madison Square Garden.
Listen, I know this sucks for the wrestling community, I get it.  You and your mark friends want to chant "FIGHT FOREVER" while Ring Of Honor breaks new ground and puts on a show at Madison Square Garden during WrestleMania weekend.   This would serve as your validation that WWE isn't the only show in town anymore.  It means that you are right to think that we've entered the golden age of wrestling! And even more so than the fans, this would allow a number of wrestlers to live out their dream of working the World's Most Famous Arena … it was signed, sealed and delivered.
But then someone made the mistake of explaining to Vince McMahon what Ring Of Honor was.
And poof! It's gone faster than Brock Lesnar after a title defense.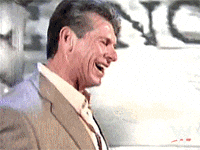 Bottom line, anyone who thinks Vince McMahon doesn't still got it is a fucking idiot.  The guy is one of the greatest businessmen of all time.  You do not fuck with this guy's money or his business, plain and simple.  If you've forgotten, he's the same guy that worked a storyline where he fought every member of his family which included: beating up his own son, sacrificing his daughter to The Undertaker and making out with smokeshow supermodels in front of his comatosed wife.  THIS IS THE GUY YOU THOUGHT YOU WERE JUST GONNA RUN MSG ON? lololololololol … not while he's still alive and you can guarantee he's got another 30 years left in the tank.  Just look at this fuckin' guy!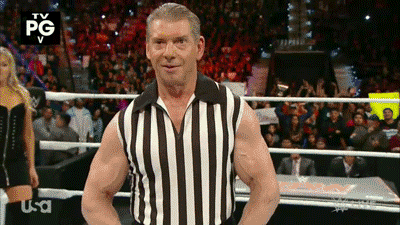 That's a 70 year old man.  You don't think he's gonna live to 100 years old?  Fuck outta here.  If Vince McMahon was a stock himself, I'd be buying all of it.  I'd be "All In" if you will.
At the end of the day Vince had to let everyone in the wrestling industry know who their daddy is.  Technically, if we're keeping score Vince is the father to Shane, Stephanie, Hornswoggle and now, Ring of Honor.
And I know some people will say this was more about Vince vs. MSG, but the truth of the matter is that ROH really never came close to having a show at the house that Bruno built.  In fact, Vince probably knew the whole time that he could cancel this show faster than a 22 year old millennial can cancel an Uber while drunk eating a slice of Pizza.  Here's a live shot of how it all went down …
1 minute later …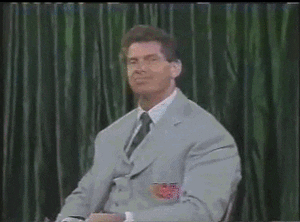 Follow me on Twitter @NickVacation